Pynocare Original/White for Melasma Hyperpigmentation Skin Treatment 100% Herbal
 UP FOR SALE IS:
PynoCare by Mega Care
.
(Choose the variants and pack size wanted)
1. PynoCare original
2. PynoCare whitening
AUST R 897890
1. PynoCare Original - Non whitening effect
First & Only Oral Depigmentation Solution!
Pynocare is a natural and complete oral de-pigmentation capsule which contains MSCC complex actisome which is a breakthrough proprietary formulation combining natural plant and seaweed extracts. A cocktail of powerful anti-oxidants with strong anti-inflammatory properties. Over 50 times more potent than vitamins C & E. It is to treat skin pigmentation at its root level. It visibly reduces the size and intensity of skin pigmentation, uneven skin tone & Melasma.
    AUST R 897234
 2. Pyno Care Whitening- The first oral natural depigmentation solution
       -For beautiful and fair skin.
       -Freedom from Melasma .
       -Treatment of melasma .
        In Pynocare White, French Maritime Pine Bark Extract acts as an anti-oxidant and helps 
    the skin regain its softness and elasticity. Vitamin C plays an important role in the synthesis 
    of collagen. D-Salina extract and Lycopene offer protection from UV ray which damage the 
    skin. Vitamin E protects the skin from the damage caused by oxidative stress. Lucent-P
    inhibits excess melanin formation and is responsible for whitening effect and moisturizing 
    effect.
    Oral Therapy with MSCC Complex Actisome
          For the first time ever, a safe and effective natural oral therapy for skin pigmentation is
    currently available in the market. It comes in the form of MSCC Complex Actisome, a 
    breakthrough proprietory formulation that combines natural plant and seaweed extracts,
    providing a source of powerful antioxidants with strong anti-inflammatory properties that is
    over 50 times more potent than vitamins C & E.
         MSCC Complex is formulated with an innovative Actisome delivery technology to ensure
    better absorption of the active ingredients. Since natural plant extracts are not easily 
    absorbed in the body, absorption is enhanced when these extracts are delivered using 
    Actisome technology. Actisome is a novel delivery system developed by Mega We Care 
    Institute, the Research & Development department of Mega Lifesciences (Australia) Pty Ltd.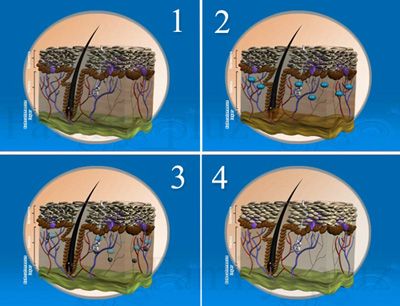 Management of Skin Pigmentation
         Successful management of pigmentation can only be achieved through the continuous use 
    of safe and effective therapy such as MSCC Complex Actisome, combined with sensible sun
    protection. Remember, just one day of unprotected sun exposure can undo months of
    treatment, especially for those prone to skin pigmentation.
         You may choose to stop using PYNOCARE after getting satisfactory results. However
   recurrences of pigmentation are quite common, particularly after you are "over exposed" to
   sunlight. So even after your pigmentation clears off, there is a possibility that it will come 
   back if you don't take proper care. It is therefore highly recommended to take PYNOCARE
   regularly to keep pigmentation under control.
         One extra benefit of taking PYNOCARE on a long-term basis is that it can actually help 
   delay natural aging process owing to its powerful antioxidant properties. PYNOCARE is all 
   natural and safe for long term consumption as no serious adverse effects have been 
   observed in the long term use of PYNOCARE.
        PYNOCARE is suitable for all skin types, and provides the ideal solution for both men and
   women to manage their skin pigmentation problem naturally from within, especially for those
   who don't like the idea of putting creams or lotions on their faces.
    Study by the SpinControl Institute, France
   Results of a clinical study conducted over a period of 12 weeks yielded the following results:
        1. A 85% efficacy rate in the reduction of the size and intensity of pigmentation
        2. No adverse side effects reported
  Study by Hospital Universiti Kebangsaan Malaysia (HUKM)
  Results of a double-blind, placebo-controlled study conducted over a period of 8 weeks yielded
  the following results:
       1. Overall efficacy rate of 76% in the reduction of the size and intensity of pigmentation
       2. No adverse side effects reported
----------------------------------------
1 capsule 1-2x daily after meal.
----------------------------------------
      Each softgel capsule contains: MSCC Complex Consisting of Piwhite (French Maritime Pine
      Bark Extract) 40 mg, Lycoskin 25 mg, Providing Lycopene 1.5 mg, Vitamin C 60 mg, 
      D. Salina Extract 20 mg, Lucent – P (Rice Ceramide) 15 mg, Vitamin E 15 IU
----------------------------------------
          Although PYNOCARE has been proven to be safe, as a general precaution it should not be
    taken within the first 3 months of pregnancy. And as data on infants is not available, the use 
    of PYNOCARE during lactation is not encouraged.

---