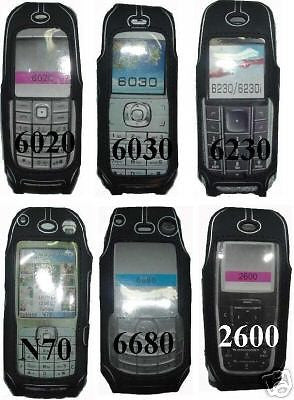 1 X NEW Nokia 2600 6020 6030 N70 6680 CASE + clip
Buy it Now.. Bid and Get the item right away.. as simple as that. LOCAL PICKUPS ARE WELCOME!!!!
BRAND NEW (mostly black or other color if stated) 1 X 
Nokia 1100 (only blue available)
1110 (black)
1600(black)
2112(black)
2600 - no stock 
3230 (pink and black available)
6020 (black)
6030 (black)
6111 (black)
6680 (black)
7260 (black)
7710 (black)
6170 (black)
7600 (black)
8800 (black)
6630 (black)
6030 (black)
7250 (only blue available)
N70- OUT OF STOCK!

Cases come with attached belt clip!!
Brand New
These cases design for Nokia as above  and it fits perfectly. It is far better than the cheaper ones on the market,so don't be fooled to buy cheaper product. Brand new, never used before, in excellent condition!!!!
I DO COMBINE SHIPPING WITH ONLY 1 DOLLAR PER ADDITIONAL ITEM. SO BUY BULK AND SAVE!!!!!
P.S DON'T FORGET TO LOOK AT MY OTHER GREAT AUCTIONS AND COMBINE POSTAGE WITH OTHER ITEMS TO GET THE REAL BARGAIN!!!
Policy
Please note that damage and lost is not our responsibility, registered postage is highly recommended
Please allow for few days of processing time
To allow for fast processing please include your name and item bought when making payment< p>
---
On 07-Feb-09 at 00:54:13 AEDST, seller added the following information:
 Attention, the 2600 case is for the 2004 model and not the recent 2600 Classic model

---