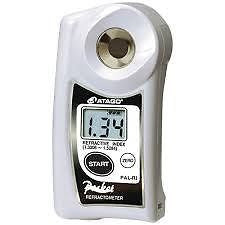 Atago PAL-RI ABBE Refractometer Refractive Index nD Scale Easy to read BRIX
For Sale:
Digital Hand-held "Pocket" Refractometer PAL-RI
The long-awaited "Pocket" digital and compact sized refractometer PAL-RI was released. 
When the start key is pressed after placing some droplets of sample on the prism, the Refractive Index (resolution 0.0001) will be displayed continuously like an electric newsboard. It is also equipped with all the features of the PAL series.



Measurement
Indicatory example

Refractive index 1.3425
Temperature 20°C




Model
PAL-RI
Cat.No.
3850
Measurement Range
Refractive Index
1.3306 to 1.5284
Resolution
Refractive Index 0.0001
Measurement Accuracy
Refractive Index ±0.0003 (water at 20°C)
Ambient Temperature
10 to 40°C
Measurement Temperature
5 to 45°C
(resolution 1°C )
Sample Volume
0.3 ml
Measurement Time
3 seconds
Power supply
2 × AAA Batteries
International Protection class 
IP65 Dust-tight and Protected against water jets.
Dimensions & weight
55(W) ×31(D)×109(H)mm, 100g (Main Unit only)
Optional
• MAGIC™ : RE-39411
• PAL-CASE : RE-39409 
• STRAP : RE-39410
* Calibration Certificate : Contact an ATAGO representative for details.

Patent for Invention Registration No. ZL200310103015.2 (China)
Patent for Design Registration No. ZL03303431.1 (China), 089244 (Taiwan)
Patent Granted in countries around the world.

Catalog Download


We are science savvy and one of the distributor of Atago Scientific, we can give out recommendations as well as advise on what is suitable for your need. 
We do have most of the refractometers and pH meter for sale. Contact us if you could not find one to suit your needs.
Postage and Packing:
1. Item will be posted with utmost care from Australia or our overseas warehouse depending on the stock availability
---