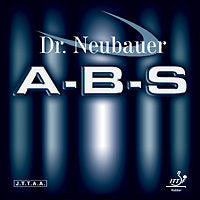 Dr Neubauer ABS A.B.S rubber table tennis blade racket
Up for sale is 1 (One) Dr Neubauer rubber

Model name :

Ask me how to get free shipping within Australia!! 
P.S dont bid this one if you want to get free shipping. I will list another one special for you
Dr Neubauer A.B.S
(red in 1.8, 1.2, 1.5mm)
(black in 1.8, 1.2, 1.5mm) 
A-B-S
The new weapon for blocking close to the table
How can I be of service to you?
Well I do hold a master degree in killing any topspin by blocking, chop blocking or chopping at long range, be it loaded, with little rotation or a power attack. I specialise in doing this with a lot of spin reversal and just low and short over the net.
Actually during my studies I majored in another subject called 'control'. Now I can keep in check any stroke with ease. Believe me this turned out to be quite an ordeal but I did it and now have fully mastered it.
You may call me slow, even very slow and I shall subscribe to this. However, if I get bored while blocking and pushing I do lose my temper occasionally, oh boy can I get aggressive then.
Doping? Trust me I don't need it, actually I even hate it.
I am honest, reliable and durable. Let us shake hands and play together. It will be fun and a pleasure, albeit certainly not for our opponents.
---
A-B-S
is distinctively slower than our current Anti-Spin rubbers
Gorilla
and
Grizzly
and offers a much better control. On top of that
A-B-S
produces a very good spin reversal for a highly effective blocking game close to the table.
At the same time A-B-S provides good attacking possibilities through aggressive pushing and lifting, especially on chopped balls.
A-B-S
and
ANTI SPECIAL
come with a new rubber mixture for the topsheet and a new type of sponge. Thus the rubbers come very close to our old frictionless long pimples.
A-B-S
is ITTF-homologated since end of 2008 and is available as from now with the following sponge thickness:
The 1.2mm version is the slowest and hence the most effective for short blocking close to the table. The version with 1.5mm sponge is slightly faster and thus a bit more effective for attacking. The 1.8mm version enables both good blocking and most of all attacking.
Note that we do sell wide range of table tennis stuff from leading brands like : Butterfly, Yasaka, Donic, Xiom, Stiga, Tibhar, Joola and 729. Shipping of rubbers is free when purchased with the blade (both international as well as domestic)

Picture is copyright of Banda
All merchandises are 100% Genuine/Authentic NEW stock (not old stock)
Please check my other items in the store for more bargain
Can't find the butterfly merchandise you want in our listings?
E-mail us as we do carry the complete range of butterfly merchandise.
---