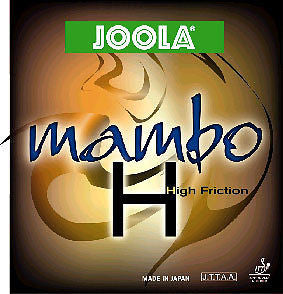 Joola Mambo H rubber table tennis blade racket pips in
Up for sale is 1 (One) Sheet Joola Rubber only, No blade or wood.
We do sell the blade and offer free gluing.

Model name :

Joola Mambo H Rubber  (Max in black or red)
MAMBO H is a high technology High Friction rubber. The sponge is slightly harder than that of conventional MAMBO. With a special glueing technique the upper rubber, which is already designed for extreme tension, is then combined with the sponge. This results in an unbelievable natural energy. This, in combination with the extreme grippy upper rubber surface, make it possibly the rubber with the most spin currently available.
Picture belongs to Joola
Shipping of rubbers is free when purchased with the blade (both international as well as domestic)
Note that we do sell wide range of table tennis stuff from leading brands like : Butterfly, Yasaka, Donic, Xiom, Stiga, Tibhar, Joola and 729. Shipping of rubbers is free when purchased with the blade (both international as well as domestic)
All merchandises are 100% Genuine/Authentic NEW stock (not old stock)
Please check my other items in the store for more bargain
---