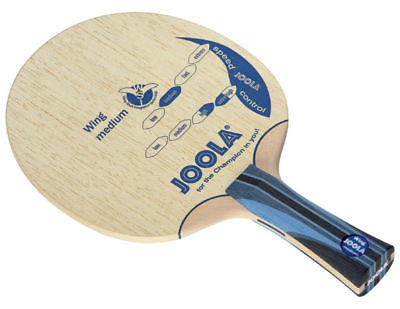 Joola Wing Medium Blade table tennis ping pong rubber
Up for sale is 1 (One) Joola Blade

Model name :

Ask me how to get free shipping within Australia!! 
P.S dont bid this one if you want to get free shipping. I will list another one special for you
Joola Wing Medium Blade (FL, Straight)

WSI technology (Wing Shaft Integration) provides a totally new feel. The handle is integrated into the blade like a wing thus providing excellent stability. The layers of precious Hinoki are aerodynamically shaped into the handle so that the grip fits perfectly in the hand. The combination of veneers provides well-balanced playing features and is ideal for players with a lot of spin and a precise blocking game.
approx. 80 gr. 5 Koto, Ayous, Kiri
Speed: medium
Control: high-extra high
Picture belongs to Joola
Shipping of rubbers is free when purchased with the blade (both international as well as domestic)
Note that we do sell wide range of table tennis stuff from leading brands like : Butterfly, Yasaka, Donic, Xiom, Stiga, Tibhar, Joola and 729. Shipping of rubbers is free when purchased with the blade (both international as well as domestic)
All merchandises are 100% Genuine/Authentic NEW stock (not old stock)
Please check my other items in the store for more bargain
Policy:
Please allow 4-5 working days for order preparation
---