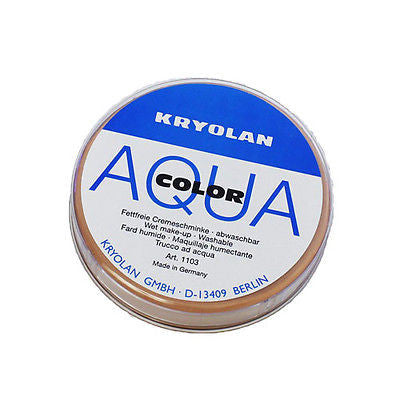 Kryolan Aquacolor 55 mL - compact powder for Professional Make-up Artist Film
Genuine Kryolan (made in Germany)
1 (One) Kryolan Aquacolor 55 mL pack
Available in many colors. e-Mail us if you need other colors.
2W, 4W
Aquacolor is a glycerin-based compact make-up, especially color-intensive, with the ingredients of superior-quality skin cream preparations.
 Aquacolor is universally applicable, primarily as a make-up for face and body painting. Application is effortless, with an only slightly moistened
 make-up sponge or brush. After drying, it can be gently buffed with a soft towel or with the hand - but is not powdered. Setting Spray is
 recommended if the make-up will be subjected  to extreme conditions. Aquacolor is extensively smudge-proof and can be easily removed with
 soap and water.

Aquacolor is available in an extensive variety of colors, which include skin and vivid shades. ECARF certified.

---