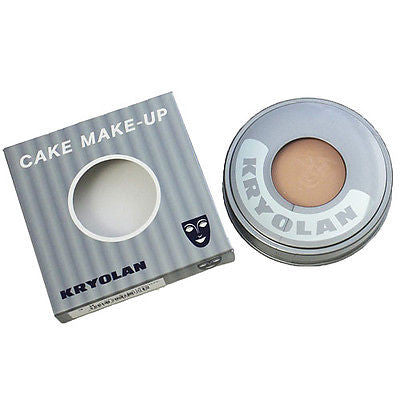 KRYOLAN CAKE MAKE UP - For professional make up artist/stage actress
1(One) Kryolan Cake Make Up  - Genuine
Choose the color by selecting from drop down menu.
Suitable for Stage & Film and is 
Ideal for Drag Makeup
This make-up able to withstand stage lights' heat and is ideal for dancers, entertainers and actors.
Cake Make-up is a color intensive make-up in the form of a compact powder which is moist-applied. Cake
 Make-up is specially designed for application to the neck, décolleté and body. The preparation-specific base
 has an hydrophobic effect and also resists transpiration.
Cake Make-up is applied, thin and evenly, by a fine-
pored, moist make-up sponge. The applied make-up dries quickly and should then be buffed with a dry
 towel. Cake Make-up is smudge-proof and does not require powdering. Easily removed with AquaCleans, or
Shades shown in the color chart may not be identical to the original product shades. Availability of shown colors may vary among countries.
---