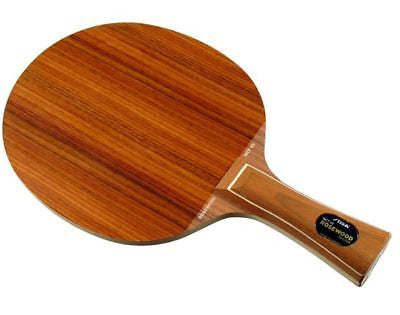 NEW Stiga Rosewood NCT VII 7 Blade Table Tennis Rubber
Up for sale is 1 (One) Stiga Blade
Model name :
Stiga RoseWood NCT VII

Anatomic, Flared/Legend, Straight, Master/Flared,  Penhold
The Rosewood NCT V and Rosewood NCT VIIblades balance speed, weight, flexibility and trajectory for an unbeatable formula. These are developed in close cooperation with our top players and the Chinese National Team to meet their demands for the best high-performance blades. Each ply of Rosewood is carefully handpicked to ensure the very best wood grain and quality. Rosewood is a little softer than the Ebenholz wood but it is still a hard wood. The high-quality wood used in the Rosewood NCT blades is very hard to find, so producing these blades is a time-consuming and labor-intensive process. The results are worth it!
The completely new mixture of special and unique Rosewood, enhanced with STIGA's scientific engineering and NCT (Nano Composite Technology) results in the Rosewood NCT V and Rosewood NCT VII blades that will be most in demand for 2010!
Rosewood NCT VII
Rosewood NCT VII is the blade for players who demand high speed, but won't tolerate a loss of feeling, control and trajectory. Built with the a unique combination of 7 plies of high-quality Rosewood, this distinctive blend of technology and craftsmanship dramatically increases the sweet spot and trajectory and maximizes the power of the blade. With Rosewood NCT VII a player gains maximum control when executing many variations of speed and strokes. Rosewood NCT VII -- where Science meets Nature!
Shipping of rubbers is free when purchased with the blade (both international as well as domestic)
All merchandises are 100% Genuine/Authentic NEW stock (not old stock)
Picture and description belongs to Stiga
Please check my other items in the store for more bargain
Policy:
Please allow 4-5 working days for order preparation
---