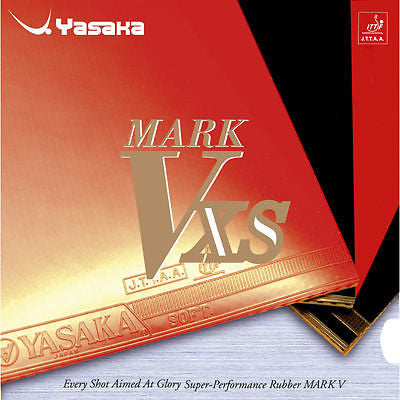 New Yasaka Mark V XS Rubber table tennis ping pong
Up for sale is 1 (One) Yasaka Rubber

Model name :

Yasaka Mark V XS Rubber
(2.0 mm or Max) Black or Red
Choose the specific color, as well as thickness!!
Stock are limited so please email to enquire about latest availability
Mark V XS
The Mark V "family" rubbers are famous among top players all over the World.
The aim when developing MARK V XS is to offer a rubber with superior spin characteristics without loosing too much speed. The way the Yasaka technicians succeeded is.

• the balance of raw material for the top sheet
was changed
• some new chemicals are added
• the production process is improved

The result is D.A.T., Double Accelaration Technology, which gives the rubber extremely strong spin possibilities and good speed.
Note that we do sell all butterfly blade. Shipping of rubbers is free when purchased with the blade (both international as well as domestic)
Picture is copyright of Yasaka
All merchandises are 100% Genuine/Authentic NEW stock (not old stock)
Please check my other items in the store for more bargain
Can't find the butterfly merchandise you want in our listings?
E-mail us as we do carry the complete range of butterfly merchandise.
Policy:
Please allow 2-3 working days for order preparation
---