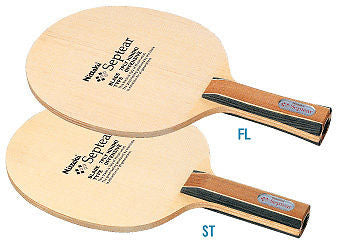 Nitaku Nittaku Septear blade table tennis ping pong
Up for sale is 1 (One) Nittaku Blade

Model name : Septear (FLARED) OR CS style

Confirm with us before hand

SEPTEAR FL
SEPTEAR.
NE-6781
JPY 5,985 (body JPY 5,700)
■ Size: Full length 258 x width 150 (mm)
■ Grip :FL
Length 101 x -thickness- 24.5 (mm)
■ 7 plywood
■ Board (thick) :6.7mm
■ Weight: 85 grams (±)
■ Speed :9.5
Control :8.5

MADE IN JAPAN



Ask me how to get free shipping within Australia!!  P.S dont bid this one if you want to get free shipping. I will list another one special for you
7 plywood racket of a pleasant batted ball sense of a luxury Kiso hinoki.
7 certain bounces by plywood show the excellent power in the various phases.
Shipping of rubbers is free when purchased with the blade (both international as well as domestic)
Picture belongs to Nittaku
All merchandises are 100% Genuine/Authentic NEW stock (not old stock)
Please check my other items for more table tennis equipment
Policy:
Please allow 5-7 working days for order preparation
---