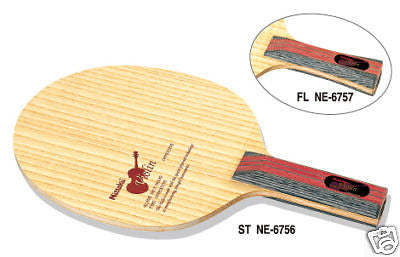 Nitaku Nittaku the Violin blade table tennis ping pong
Up for sale is 1 (One) Nittaku Blade

Model name : Violin
(Flare or straight or Penhold)

VIOLIN FL VIOLIN
NE-6757
JPY 15,750 (body JPY 15,000)
■ Size: Full length 256 x width 149 (mm)
■ Grip :FL
Length 100 x -thickness- 22 (mm)
■ 5 plywood
■ Board (thick) :5.3mm
■ Weight: 88 grams (±)
■ Speed :10.5
Control :8.5

MADE IN JAPAN.
Ask me how to get free shipping within Australia!! 
P.S dont bid this one if you want to get free shipping. I will list another one special for you
Though it's hard, it's a racket with strong "bending" of elasticity.
A ball is grasped tightly, so it's possible to propose a powerful ball.
Shipping of rubbers is free when purchased with the blade (both international as well as domestic)
Picture belongs to Nittaku
All merchandises are 100% Genuine/Authentic NEW stock (not old stock)
Please check my other items for more table tennis equipment
Policy:
Please allow 5-7 working days for order preparation
---