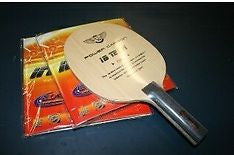 The Carbon King Dawei VTS 3.0 Carbon Blade + Inspirit Rubbers Table Tennis FAST
Up for sale is 1 (One) Dawei Carbon Racket
Model name :
Speed Demon - With Control and Spin
Dawei VTS 3.0 & Inspirit Rubbers
This combination is for players that like offensive strokes, If you like a slightly heavier blade, then this ones for you.
Dawei Have selected the Best quality timbers & combined them with 2 Carbon Layers to give you the speed sentation.
They have also designed this blade in Japan with the IB-Technology which improves speed, balance, Control and provides better touch.
This is a FAST (OFF) attack style blade, but with a soft feel, providing a perfect combination of speed and control.
This is a High-Tech 5-ply blade (2carbon, 3 wood).  The high grade carbon layers provide a huge sweetspot. The Arylate dampens the excess vibrations caused by impact, and provides a much softer feel to the blade. This blade offer huge power at all distances, and is outstanding for looping, power drives, smashes and blocking, but has soft enough feel for some touch shots. It also implements a new energy conservation technology, returning all the speed of the ball back to your opponent.
OFF

Speed
Control
Plies
Weight

95

91

3 + 2

100 grams

Hollow Handle, available Concave & Straight

**** BEWARE of IMITATIONS, These are Genuine Dawei Blades ****
Dawei Inspirit, Not your conventional Chinese Rubber, This one has been designed in Japan, and plays very Similar to Butterfly's Bryce FX.
This Rubber has been designed in Japan for the professional Chinese Player. It has a Japanese Rubber Feel to it.
The Sponge is of Medium Density, and reacts very well to Speed Gluing. It has a little more spin than Bryce FX, and much better control.
When using Speed Glue this Rubber makes a lovely clicking sound, and believe it or not, has more feeling.
Recommended for players of all Levels.
INSPIRIT

Speed
Control
Spin
9.5
8.5
9.5
Conventional Rubber, available Red & Black. Max, 2.0mm & 1.8mm
**** BEWARE of IMITATIONS, These are Genuine Dawei Rubbers ****
Ready to play with fully assembled Racket, ideal for advance player who wants extra speed

Note that we do sell all Table Tennis rubbers. Shipping of rubbers is free when purchased with the blade and we offer free gluing service for all blade purchases.

Picture is property of Butterfly

All merchandises are Genuine/Authentic.
Please check my other items in the store for more bargain
Can't find the Table Tennis merchandise you want in our listings?
E-mail us as we do carry the complete range of 
Table Tennis 
merchandise.
Policy:
Please allow 2 working days for order preparation
---