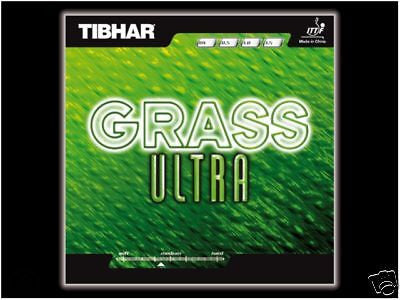 Tibhar Grass Ultra Long pimples out rubber table tennis
Up for sale is 1 (One) Tibhar Rubber

Model name :

Ask me how to get free shipping within Australia!! 
P.S dont bid this one if you want to get free shipping. I will list another one special for you
Tibhar Grass Ultra Long Pimples out  Rubber (OX in black or Red)
Grass Ultra is a long-pimple rubber with an adhering surface (complies with the new ITTF's regulation). The newly developed rubber surface permits a large variety of undercut balls during a defensive game, but also disturbing attacks at the table, while your attacking balls will remain unpredictable for your opponents. The 1.0 mm and 1.5 mm versions even provide the possibility of light counter balls. Although the ITTF has implemented new regulations, this rubber possesses a disturbing effect which is very well adapted to a defensive but also a block game style.
Picture belongs to Tibhar
Shipping of rubbers is free when purchased with the blade (both international as well as domestic)
Note that we do sell wide range of table tennis stuff from leading brands like : Butterfly, Yasaka, Donic, Xiom, Stiga, Tibhar, Joola and 729. Shipping of rubbers is free when purchased with the blade (both international as well as domestic)
All merchandises are 100% Genuine/Authentic NEW stock (not old stock)
Please check my other items in the store for more bargain
Policy:
Please allow 4-5 working days for order preparation
---