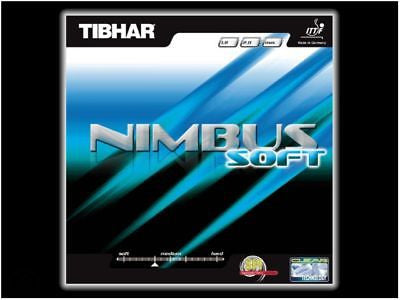 Tibhar Nimbus Soft Rubber table tennis blade Racket
Up for sale is 1 (One) Tibhar Rubber

Model name :

Tibhar Nimbus Soft
Black or red in 1.8mm, 2.0mm, 2.2mm (Limited Stock)



SPEED 100   CONTROL 99   SPIN 95
The soft version of Nimbus will definitely impress all players who like playing with very soft offensive rubbers. Nimbus Soft with its 37,5° sponge hardness has exceedingly perceptive ball control and was developed in such a way that, even in extreme playing situations, it will provide a large margin for technical error. The very small speed loss is more than compensated by the enormous increase of control this rubber provides.




Picture belongs to Tibhar
Shipping of rubbers is free when purchased with the blade (both international as well as domestic)
Note that we do sell wide range of table tennis stuff from leading brands like : Butterfly, Yasaka, Donic, Xiom, Stiga, Tibhar, Joola and 729. Shipping of rubbers is free when purchased with the blade (both international as well as domestic)
All merchandises are 100% Genuine/Authentic NEW stock (not old stock)
Please check my other items in the store for more bargain
Policy:
Please allow 4-5 working days for order preparation
---