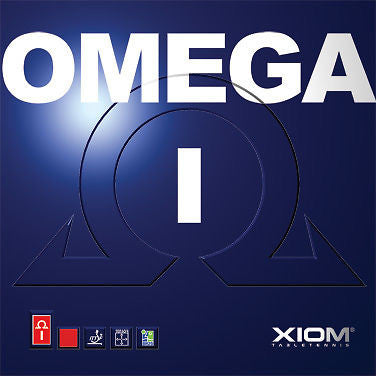 Xiom Omega 1 rubber (Asian version) table tennis ping
Up for sale is 1 (One) xiom Rubber

Model name :


XIOM Omega 1  (Asian Version) (2.0mm or Max)





PERFECT & EASY SOLUTION FOR THE BAN. SOFT FEEL, CONSISTENT CONTROL, AND EXCITING SPEED.

TENSOR BIOS created a maximum effect of speed glue inside the rubber. The built-in speed glue effect of OMEGA I already exceeds the level of speed glue effect from normal speed gluing. Among OMEGA series, OMEGA I has more balance towards control. The trajectory and path of the ball is very consistent and the ball lands at the spot you intended - very precisely more than ever. Soft but powerful top sheet with maximized built-in speed glue effect creates amazing spin and speed characters. Adoption to OMEGA I is relatively easier than OMEGA II and III. OMEGA I has a big advantage to on-table techniques and passive blocks. Upgrade your technique with OMEGA I now. Not with speed glue.




Picture belongs to XIOM
Shipping of rubbers is free when purchased with the blade (both international as well as domestic)
Note that we do sell wide range of table tennis stuff from leading brands like : Butterfly, Yasaka, Donic, Xiom, Stiga, Tibhar, Joola and 729. Shipping of rubbers is free when purchased with the blade (both international as well as domestic)
All merchandises are 100% Genuine/Authentic NEW stock (not old stock)
Please check my other items in the store for more bargain
Policy:
Please allow 4-5 working days for order preparation
---