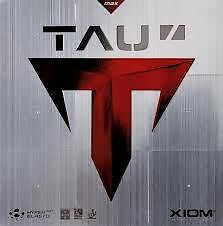 Xiom Tau I Rubber Table Tennis Ping Pong No Wood or Blade TENSOR BIOS
Up for sale is 1 (One) Xiom Rubber

Model name : 

Xiom Tau I Rubber (Max in black or red)


- MAX BUILT IN TENSION BY GERMAN TENSOR BIOS TECHNOLOGY
- Combination of sticky surface top sheet with extremely hard sponge has been a key weapon for China to dominate the modern table tennis world. But the uncomfortable truth is that unhealthy external chemicals like speed glue should be applied to balance out the proper elasticity from these hard rubbers. Since the banning of ITTF (since 2008) against these hazardous chemical, boosters have been introduced. Boosters are not only illegal in ITTF but also extremely impractical to use. Boosters also often increase the thickness of rubber over the rule of 4mm. Solution is New Technology. World-renowned TENSOR BIOS technology softens the hard rubber without illegal external substances to reach teh proper elasticity in hard rubber.



Stocks are very limited, first come first serve.
Note that we do sell wide range of table tennis stuff from leading brands like : Butterfly, Yasaka, Donic, Xiom, Stiga, Tibhar, Joola and 729. Can't Find what you want at our Store? e-Mail us. 
Shipping of rubbers is free when purchased with the blade (both international as well as domestic) 


Picture is copyright of Darker and internet

All merchandises are 100% Genuine/Authentic NEW stock (not old stock) 


Please check my other items in the store for more bargain

Can't find the butterfly merchandise you want in our listings?
E-mail us as we do carry the complete range of butterfly merchandise.
---