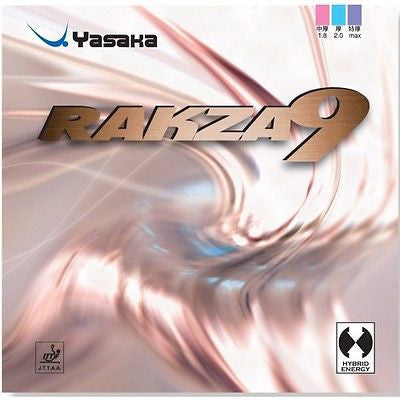 Yasaka Rakza 9 Rakza9 Raksa 9 Rubber Pips-in Table Tennis Ping Pong
Up for sale is 1 (One) Sheet of Yasaka Rubber

Model name : 


Yasaka Rakza 9 Rubber 

(1.8mm, 2.0mm or Max in Black or Red)- 

Choose

RAKZA 7 – The winning combination
The latest addition to the Rakza family with improved speed characteristics.
The surface rubber of Rakza 9 has a newly developed formula/rubber combination. In addition the new sponge is made of a more homogenous material and has larger pores. 
Rakza 9 is the fastest of Yasaka's Hybrid Energy rubbers and is suitable for technical offensive players using both high speed and spin to win the point.
Rakza 9 was introduced during World Championships in Dortmund in March. Many of the visitors showed a great interest.


All merchandises are Genuine/Authentic butterfly merchandise and not cheap copy. 

Picture belongs to Yasaka


Please check my other items in the store for more bargain

Can't find the butterfly merchandise you want in our listings?
E-mail us as we do carry the complete range of butterfly merchandise.


Policy:

Please allow 4-5 working days for order preparation
---