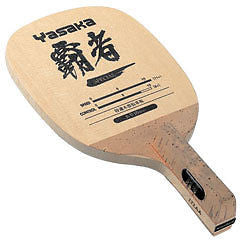 Yasaka W-60 Hasha Special JS Penhold Blade Table Tennis Ping Pong no Rubber
Want free shipping within Australia? e-Mail us for details.
Up for sale is 1 (One) Yasaka JS Penhold
Model name :
 Yasaka
 W-60 Hasha Special Penhold Blade
OFF JPen

1-ply 10mm
Speed 11
Control 8+
Weight 90+/-5gr
Dimension 254x133mm
All merchandises are Genuine/Authentic Yasaka merchandise and not cheap copy.
Picture belongs to Yasaka
Please check my other items in the store for more bargain
Can't find the butterfly merchandise you want in our listings?
E-mail us as we do carry the complete range of butterfly merchandise.
Policy:
Please allow 4-5 working days for order preparation
---